Get Your Vitamin D3 Boost

Our Vitamin D3 has Added Vitamin K2 for Added Bioavailability

5000IU of Vitamin D3
MK7 Vitamin K2
100% More Capsules
Non-GMO
Manufactured to GMP Standards in USA
Easy to Swallow
5 Star Rated

Supports Sleep, Anxiety & Muscle Cramps

Many people in the US are Magnesium deficient, are you getting enough of this vital mineral?

270 Tablets, Over 4 Months Supply
Chelated Magnesium Glycinate, Max Absorption
Formulated to Disintegrate Within 30 Minutes
Supports Sleep, Muscle, Bones, Teeth and Nervous System
Manufactured to GMP Standards
Tens of Thousands of Happy Customers

CoQ10, Protecting Your Heart

CoQ10 protects your body from Oxidative damage and may help protect the heart.

100mg of CoQ10 in One Softgel
Amazing Value - 8 Month Supply
Softgel for Max Absorption
Non-GMO
Free. of Common Allergens
Tens of Thousands of Happy Customers
Feature on: Biotin Drops
Your hair and skin is damaged every day. The major causes of hair damage are bleaching, blow drying, over brushing and a poor nutrient weak diet.
Skin is even more prone to damage with sun exposure, smoking, chemicals in detergents, stress, lack of sleep and reduction in elastin and collagen the main culprits.
Why not benefit from one of nature's natural defences for your hair and skin - Biotin. Biotin contributes to the maintenance of normal hair, skin and nails.
Purely Holistic Biotin Drops supplement is the most potent available, at 10,000 mcg per serving, with hundreds of success stories from customers. Liquid Biotin is more bioavailable than capsules. To make it even better it is manufactured in our facilities in Utah.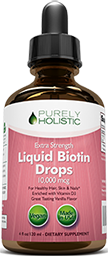 Hundreds of thousands have trusted us
to provide their supplemental needs